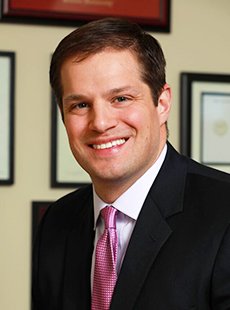 Clinical Interests
Dr. Scolaro is a fellowship trained orthopaedic traumatologist. He specializes in the treatment of acute fractures as well as nonunions and malunions. Other areas of interest are fractures of the pelvis and acetabulum, periprosthetic fractures and complex peri-articular fractures.
Research Interests
Dr. Scolaro's interests involve patient-focused clinical outcomes research, specifically multi-center trials and large population-based outcome measures. In addition, research interests include improving fracture fixation though collaboration with Dr. Thay Lee and the biomechanical lab at the Long Beach Veterans Administration Hospital.
Background
Dr. Scolaro graduated with his Bachelor of Science from the University of Notre Dame. He then went on to receive his Master's of Arts and Doctorate of Medicine from the School of Medicine at Boston University. He completed a general surgery internship and residency in orthopaedic surgery at the University of Pennsylvania. He spent time during residency at Medizinische Hochschule Hannover (MHH) in Hannover, Germany on a visiting scholarship. Subsequently, Dr. Scolaro completed his orthopaedic trauma fellowship at Harborview Medical Center in Seattle, Washington.
Boston University School of Medicine – Boston, MA
Boston University School of Medicine – Boston, MA
University of Pennsylvania – Philadelphia, PA
Orthopaedic Trauma, University of Washington Harborview Medical Center – Seattle, WA
2018 Southern California Super Doctors 2018 – Los Angeles Magazine
2018 Orange County Medical Association – Physician of Excellence
2017 Southern California Super Doctors Rising Stars 2017 – Los Angeles Magazine
2017 American Orthopaedic Association – North American Traveling Fellowship – 1st alternate
2016 AO Trauma North America – Howard Rosen Award – Table Instructor, Basic Principles of Operative Fracture Management – Phoenix, AZ
2016 Southern California Super Doctors Rising Stars 2016 – Los Angeles Magazine
2015 Southern California Super Doctors Rising Stars 2015 – Los Angeles Magazine
2014 Kevin L. Armstrong Clinical Faculty Teaching Award – UCI Department of Orthopaedic Surgery
2013 AAOS/OREF/ORS Clinician Scholar
2013 Annual Research Award – University of Pennsylvania Orthopaedic Journal
2013 DeForest Willard Award – University of Pennsylvania
2013 OREF Resident Scholarship
2011 Journal of Orthopaedic Trauma – Best Orthopaedic Teaching Resident
2007 Boston University School of Medicine – Alumni Association Award
Notre Dame Alumni Association
Habitat for Humanity
AO Trauma North America – Member and Faculty
Orthopaedic Trauma Association – Member
American Association of Orthopaedic Surgeons – Member
Foundation for Orthopaedic Trauma – Member
California Orthopaedic Association – Member
Western Orthopaedic Association – Member
American Board of Orthopaedic Surgeons (Part I) – Passed 2012
American Board of Orthopaedic Surgeons (Part II) – Passed 2015