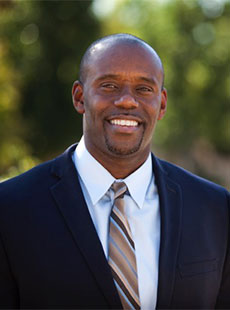 Vasco Deon Kidd has practiced orthopedic surgery for over 18 years and is an alumnus of the Orthopaedic Surgical Fellowship Program at Arrowhead Regional Medical Center (ARMC). Deon received his undergraduate degree from California State Dominguez Hills, a master's degree in health professions education, and a Physician Assistant certificate of completion from Western University of Health Sciences.
Deon also completed a second master's degree in public health from UCLA, and a doctorate degree in health science from A.T. Still University, Arizona School of Health Sciences. In addition, he completed a teaching excellence fellowship at the University of Texas Health Science Center, San Antonio. Deon has won numerous awards including teaching appreciation award in orthopaedic surgery from Kaiser Permanente Family Medicine Residency Program.
Deon has authored numerous peer-reviewed publications and presented at national conferences. He is also a member of the American Academy of Orthopaedic Surgeons and American College of Healthcare Executives.
In addition, to his clinical duties, Deon is the Director Advanced Practice Providers at the University of California Irvine. He is responsible for all facets of the delivery of care provided by 215 APPs including program advocacy, outreach, regulatory compliance, credentialing, and business case development.